THE WORLD COMMUNITY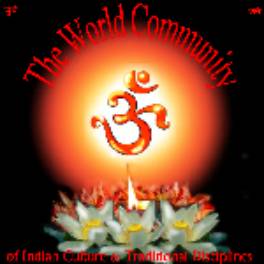 THE WORLD COMMUNITY, BORN TO SPREAD AND PROTECT INDIAN CULTURE & TRADITIONAL DISCIPLINES, that include
World M.I.F.A. World Movement for Indian Fine Arts
World M.Y.A. World Movement for Yoga and Ayurveda
E.Y.F. European Yoga Federation
It is very glad to inform you about the update Members list (here below)
THE
WORLD COMMUNITY, NATA

PER DIFFONDERE E

PROTE

GGERE

LA CULTURA E LE DISCIPLINE TRADIZIONALI

INDIANE, e che comprende:
World M.Y.A. "Movimento Mondiale per lo Yoga e l'Ayurveda" World M.I.F.A. "Movimento Mondiale per le Arti dell'India" E.Y.F. "Federazione Europea di Yoga"
è veramente lieta di comunicarvi la lista aggiornata Membri (qui di seguito)
Unity in Diversity!
Uniti nella Diversità!!
Keep in touch with a smile 'cause all people smile in the same language.... ;o) Emy, Amadio, Surya
Comunica con un sorriso perché tutte le genti sorridono nella stessa lingua,... :o) Emy, Amadio, Surya
Please share this news digest with likeminded people. Thank you!
Prego diffondete il comunicato ad amici e interessati, grazie!
The World Community founded for the protection and the diffusion of the Indian Culture, Science, Philosophy, Yoga, Ayurveda, Fine Arts and Traditional Disciplines has more than 460 Members all over the World (56 Countries)
La Comunità Mondiale fondata per la protezione e la diffusione della Cultura, la Scienza, la Filosofia, lo Yoga , l'Ayurveda, le Belle Arti e le Discipline Tradizionali dell'India ha oltre 460 Membri provenienti da tutto il Mondo (56 Nazioni)
if you mind to be part of this great family "Subscribe!!" yourselves...
Se volete far parte di questa grande famiglia "Iscrivetevi!!" ....
The World Community is a no profit Institution with a free subscription
The World Community è un'Istituzione no profit e l'iscrizione è assolutamente gratuita
Membri Fondatori: / Founder Members:
Emy Blesio, Gayatri Devi (Italia) (Italy)
Amadio Bianchi, Suryananda (Italia) (Italy)
Membri / Members (470) Nazioni / Countries (57)
"In Ordine Alfabetico " / "In Alphabetical Order"
Argentina (5)
Adriana Bertolotti (Argentina/ Italia) - Arcu e Deus
Analia Lo Vecchio - Asociacion Mendocina de Yoga Integral
Catalina Aidar – Asociacion Mendocina de Yoga Integral
Cecilia Lo Vecchio - Asociacion Mendocina de Yoga Integral
Julia Olga Jassán Suby – Yoga y meditaciòn - La Rioja Argentina
Austria (1)
Radha Anjali - Natya Mandir Dance Company And Music - Ensemble - Bharatanatyam - Samgama Projects - Tradition And Innovation
Australia (6)
Aleta - Kundalini Yoga teacher - Sydney
Bianca Machliss - Yoga Synergy Pty Ltd
Preeti Dixit Mrs. - Indian classical vocal music – Sydney
Sashi - Dancer -Teacher, Creative Director, Visual Artist, Designer
Simon Borg Olivier - Yoga Synergy
Vaidya Amrit Adriana - Ayurveda
Bangladesh (4)
Rev.Santajyoti Thero - Kotwali,Chittagong - The World Community Deputy of Bangladesh on behalf of Rev.Dharmasen Mahathero-Sangharaj
Rev.Dharmasen Mahathero-Sangharaj - The Supreme Sangha Council Of Bangladesh - Kotwali,Chittagong - Honorary Deputy of Bangladesh.
Belgium / Belgio (4)
Apsara India vzw – BharataNatyam, Kuchipudi, Indology
Michel Colas - Membre de la F.B.H.Y. et Professeur de Yoga
Michèle Quintin Centre de Relaxotherapie® et de Prévention
Miet Bleyen – BharataNatyam
Brazil / Brasile (9)
Beatriz Brooks - director of Mantramandap/Locombia - Odissi dance/Yoga
Jorge Orlando Moreno Valenzuela - music player - Locombia Teatro
José Ruguê Ribeiro M.D., Dr. Swami Narayananda - Kalayasa Clinc of Brasil
Locombia - teatro de Andanzas - Odissi and Yoga
Maria Helena G.Naufal - Yoga Sandri
Silvana Duarte Costa - artistic director of Padma - Art & Culture - Odissi
Swamiji Shankara - Paramacharya Sergio Oliveira - Director of the Shankara Yoga Ashram
Swamini Vivasvananda Mataji - Sonia Liliana Dumpierres de Oliveira - ASYAB ( Associação Shankara Yoga Ashram do Brasil) Caxias do Sul
Uan & Tamirá - Marisa De A. Corbisier e Francisco Denes R. A. De Rozgonyi-Roessler - Grupo Brasíndia - Caxambu - Minas Gerais
Bulgaria (1)
Borislav Nikolov - Yoga Teacher
Canada (7)
Anne-Marie Baston Anjali) - Anjali Academy - Ottawa
Nouveau IDEA (New Indian Dimension in Entertainment & Arts) Tushar Unadkat
Patnaik Devraj - Artistic Director - Chitralekha Dance Academy - Odissi (Dance and Music)
Patnaik Kalasri Chitralekha - Odissi Dancer - Co-founder of CODC - Chitralekha Odissi Dance Creations
Samita Nandy - Giornalist Premiere Cinematic Productions & University of Toronto
Sree Rama Chandra Murty Sistla - Indian Carnatic Classical Music Composer
Tushar Unadkat - Director of Mukta Advertising - Cinema
China / Cina (3)
Jana Colona (China/Slovenia) - SuryaSakti Center For Yoga & Health
Ra Mahiema (India/China) - Film maker / Researcher / Writer - Perseus
Santosh Kumar Thadavath (China/India) - BharataNatyam
Colombia (1)
Cesar Aranguren - Yoga
Croazia (2)
Dr. Meri Bura M.D. - Yoga and Ayurveda
Sanja Raca - Rel Doo
Czechoslovakia / Cecoslovacchia (1)
Ralph Nataraj – Kamal, Theatre of Infinity s.r.o.
Denmark / Danimarca (1)
Gabriela Hansen - EQ therapy Yogaversity Internationalcademia
Ecuador (2)
Kan Faggioni Guayaquil - Stilo Yang
Somaaditirtha Saraswati Swami (Romania/Ecuador) - Bhakta Shakta Yogi
Egypt / Egitto (1)
Wafaa Ahmed - Director & teacher of Yoga Art Studio - Egypt & Fine Artist - Cairo - Egypt
England / Inghilterra (14)
Françoise Dr.Barbira Freedman - Birthlight
Ganeson (India /England) - Art and Indian Culture
Julie Cuddihy - Director of Anaharta - Kundalini & kristalbowl Artists
Kalamandalam Barbara Vijayakumar - Kala Chethena - Kathakali Theatre Company
Kalamandalam Vijayakumar - Director, teacher, actor of Kalathakali theatre company - Southampton - UK
Kalavathi Devi - Yogacharini - Director of the Gitananda Yoga Society - UK
Mayura Patel - Director - Bharat Natyam - Aangikam Dance Akademy – Croydon - Surrey
Mitali Dev – Nrityakunj school – Odissi – Cheshire - UK
Michael Pattinson - OM UK Eastern Arts
Ragasudha Vinjamuri - Dancer, Teacher, Cultural Commentator - London
Rajesh Ananda - Guru & Spiritual Teacher - FISU - Foundation for International Spiritual Unfoldment
Raphael Achirey - Tara Yoga Centre
S.Harikumar Sivan – Violin
Sarra Whicheloe – Bharatanatyam dancer and yoga teacher- Barnet
Finnland / Finlandia (1)
Aldo Dr Rizzo- ricercatore - Finnsih Food and Safety Authority E.V.I.R.A. - Helsinki
France / Francia (23)
Andrè Rhiel - Rasa Association - Yoga
Amirdine FAROUK - President of France India & municipal counselor of Paris
Armelle Choquard - Association Dhvani - BharataNatyam teacher and dancer - Aix.en.Provence
Bernard Auryol Dr. - Stress, Yoga et Psicosonique
Chantal Webster - Yoga des Yeux, Méthode Bates
Corinne Cosseron - L'Ecole Francaise du Rire et du Bien Etre
Estrella Pellin - Yoga Nidra theacher - Mery Sur Oise
Ghislaine Brocard - Institut Francaise de Yoga
GillEric Leininger - Institut Leininger
Guina Baroan Bertin - Soleil Yoga et Equilibre
Karunakaran Nair Kalamandalam - Kathakali Theatre
Laure Reimbold - Centre Ayurveda
Louis Cléret - paintre et inventeur du Yoga-Meridien - Fontenay sous Bois
Mahe-Pilastre Martine - Yoga Teacher, Yoga Massages Chant - Ganesha Association
Manjula de Maricourt Khan - Bharata Natyam and bollywood -Centre de Danse du Marais - Paris
Maryse Guiblain - hatha yoga, yoga nidra teacher - Clichy
Mireille Guilloux - Institut International du Yoga of Yogi Babacar Khane
Nicole Alary - Institut Français de la Formation à l'Enseignement du Yoga
Nina Soufy - Kathakali Theatre
Patricia Bayard - Association Se Rel-axer
Poumi Lescaut - Kundalini Yoga
Sandra Meixner - Centre Bouddhiste de Ile-de-France
Yogi Sri Bashkar Nath - Federation des Yoga Traditionells
Germany / Germania (6)
Evelyn Horsh - yoga teacher - Windeby
Ganga Grace - bharata natyam dancer and yoga teacher - Darmstadt
Helene Eriksen - Teacher, Choreographer and Dance Ethnologist - Kathak, Folk dances of N. India, Pakistan and Afghanistan
Kalamandalam Radhika - Teacher and performer Mohiniattam - Nrithya Dhara - Dormagen
Michel Filinis (Efesemel) - Asana Yoga Center
Veronique Fleming - The Yoga Loft
Greece / Grecia (6)
Ariadni Gerouki (Karma Yeshe Lamo) - Center of Harmonious Living
Kali - Kallia Grammatikaki - Yogazen Ashram and bellydance - Iraklion - Crete
Lena Adamopoulos - Yoga World, Magazine for Yoga and Holistic Therapies
Linda Kapetaniou Stavroula – founder of the Academy of Holistic Yoga - Kifissia - Athens
Michel Filinis (Efesemel) - Asana Yoga Center
Sofia Hagipanagiotou - Ey Zein, Yoga School- Aesthetics
Hungary / Ungheria (2)
Adrien Meszaros (Miss) – Odissi Danceer
Fischer Dr. Szatmàri Làszlo - Kolosi Csoma Yoga Agyesulet
Ile De La Reunion / Isole della Reunione (1)
Fabienne Lhuissier Karuna - Yoga and Bharatanatyam teacher - Yoga-Dance - St Joseph... Ile De La Reunion
India (150)
A.M.Mohanan - Yoga Teacher and Director of Art: come4yoga Music
A.R.Kumaran - Central Electrochemical Research Institute
Aashish Phadke Prof.Dr. - Ayurveda & Panchakarma Therapy Consultant – Mumbai -India
Abani Biswas - Milòn Mèla company of Kalaripayattu, Baul, Gotipua, Chhau – Bolpur - West Bengal
Abhik Mukherje - Sitarist of WestBengala
Adyar K.Lakshman Sri Guru - BharataNatyam
Aishwarya Padmanabhan – Bharata Natyam dancer - Valmiki Nagar, Thiruvanmiyur, Chennai - India
Ajith Kumar - Maruthi Kalari - Martial Art Kalarippayattu of Kerala -
Aloka Kanungo - Classical Dance Odissi - Director of Shinjan Nrityalaya - Kolkata
AnilKumar Gopalakrishna - yoga and ayurveda - Chennai
Anuradha Pal - Tabla player - founder of Stree Shakti group - Sur aaur Saaz Music – Mumbai
Araty.H.Shetty - Principal of a Fine Arts College Affiliated to Mangalore University - Karnatakaand Director of Sridevi Nrithya Kendra - South Kanara District
Archana Sachdev - Teacher/Artist: Yoga, Indian dancing, singing, acting - Mumbai
Arja Srikanth Department of Culture - Government of Andhra Pradesh - Hyderabad
Avani Shrenik Pandit - Rangashree School Of Fine Art's - Gujarat
Bijoy Anand Shivram - Preksha Dance Centre - Bharata Natyam, Contemporary, Folk Dances, Indian Theatre and Hindustani Music - Ahmedabad - Gujarat
Bindu Mehra - Visual Arts (Paintings, Sculpture, Installation)
Binoy Varghese - Visual artist
Bhole Dr.Mukund V. - Yogacharya - Yoga therapy
Chellappan Ambujakshan Nair - Kathakali - Kalpakkam - Tamilnadu
Chandrashekhar Sharma - Jyotish - Vedic Astrology - Nagpur
Caroline Klebl – Teacher and Director of Yoga School: Source of Yoga - Lakshmipuram - Mysore – Karnataka
Dharam Vir, IAS - President of Indian Yoga Federation
Darshana Jhaveri - Manipuri Nartanalaya
Debalina Addhay - Odissi dancer - New Delhi - India
Devayani Ms - Devayani Dance Company - Bharata Natyam
Devika Dinakar - Equity Intelligence India - Valmiki Nagar - Thiruvanmiyur - Chennai
Dharmananda Jain Swami - Adhyatma Sadhana Kendra New Delhi
Ganesh Shankar - President Yoga and Psychotherapy Association of India (Ypai) - Yoga Psychotherapy and Holistic Health
Gayatri Balagurunathan - Krishnanjali performing group – Bharatanatyam and folk dances of india
Geetha Rajagopal - Director of Sampradaya – Chennai
Gopinathan Nithyanantham – director of Nadeswar Yoga Research Academy -
Heritage India Foundation P.K. Rajan - University - Guru Sadanam Balakrishnan – BharataNatyam
Ileana – Citaristi - direttore, Insegnante - Art Vision school- Danza Odissi e Mayurbhanji Chhau - Bindusagar (west) -Bhubaneswar
Imamddin Akbar Khan and Kamrudeen - Ustad Arba Music Institute
Jayaprabha Menon - Yuga Sanskriti - Centre For Performing Arts - Kerala Mohiniattam
Jayaprakash Dr.Narayan - Ayurveda
John Kalamandalam - Kalatharamgini Centre for Performing Arts and Culture - Kathakali
K.R.Kurup Dr. - Noopura Institute - Mohini Attam
Kalamandalam Radhika - Teacher, performer Mohiniattam - Nrithya Dhara - Bangalore
Kalpalathika Thiyagarajan (India/Singapore) - Kalpavrikshaa, School of Fine Arts - Kuchipudi
Kamalini Dutt - Director Doordarshan National Tv
Kapil Dev Pareek - Yoga Instructor Ashtanga Yoga – Sirsa - Haryana
Koothambalam Natyalaya school - K.Sivaloganathan - Bharatanatyam, Kuchipudi, Mohiniattam, Kathakali - Karur - Tamil Nadu
Kunal Daswani – Director of Super Audio (Madras) Pvt.Ltd
Lakshmi Sai Kumar Dampanaboina - Kalapremi, Arts Charity, Theatre UK
Leena Malakar - Shriram Bharatiya Kala Kendra New Delhi
Leo Rebello Dr. - President, Holistic Healing Arts -World Peace Envoy - Bombay
M.Harre Dr. Harren Iyer - Music Therapist & Healer- Pondicherry
M.S. Subramania Sharma - Gurukrpa School of Arts and Sports
M.S.Viswanaath -Yoga and fine arts - Foundation of Pathanjala Yoga Kendra and Mill Sivaramaiah Foundation
Madhu Ambat - Cinematography
Madhusmita Smt.Mohanty & Sri Ramesh Chandra Jena, Couple of Odissi Dance
Mahesh R. Atale - Yoga in Air, Mallakamb - Mumbai
Maitreyi Yogacharini - Arkaya Awareness Centre
Manjari Singh - Yoga
Mary John - Kalatharamgini Centre for Performing Arts and Culture - Mohini Attam
Mark Dyczkowski Dr. BA e MA Banaras Hindu University / Oxford (India/Italy) - Indira Gandhi National Centre for the Arts – Wreiter – Musicien – Tantra Expert
Masako Ono - Odissi Dance
Mathang K. Iyengar – BharataNatyam
Minesh Patel – music arranger and music director Gujarati film –Vadodara - Gujarat
Mohan Dr.Joshi - Doctor of Science
Music & Chants - Navin Supertape - Super audio - Madras - Tamil Nadu
Mrinalini Rajaram Mrs. - Natya Navaneetam Dance in Mysore
Namboodripad A.S. - Tantra Rathnam - Pondicherry - Tamil nadu
Namita Bodaji – Director - Samskara Academy of Fine Arts Bharatanatyam
Nareshkumar Pandit Pillai - BharataNatyam, Choreographer, Teacher and Performer - Mumbai
Naresh Kumar Pt.R. – Dip Yoga, Sans BA, perform BPA,Chore MFA - Mumbai
Nirmal Kumar - Gurukrpa school - Pondicherry - Tamil Nadu
Nrithyakshethra Ramachandran Muralidaran - BharataNatyam
P.T.Narendran - Bharata Natyam Dancer, Choreographer, Teacher - Deputy of the Dance Department of Suryanagara and Surya Associations in India
Padmaja Suresh - Kalapataru Kalavihar - BharataNatyam
Pallavi Krishnan - Lasya Akademi of Mohiniyattam
Pandya Guru Sharad - Purva School of Bharatanatyam
Pandya Ms. Manasi - Performing Artist - 'Purva' - Bharatanatyam & Odissi
Parama Karuna Devi (Paola Mosconi) (India/Italia) - Jagannatha Vallabha Vedic
Prem Azeem, Mohammed Turab - Yoga Teacher Social Activist - COVA - Hyderabad
Preeti Dixit - Arch. Research Center - Mumbai
Paul Satyaranjan Shuba (India/Italia) - Ananda Ashram - Milan
Paulomi Pandit - Rangashree Indian dance - Ahmedabad - Gujarat
Pedulla Narsing Rao - Nrityanjali Academy
Poorvadhanashree – Bharatanatyam Dancer
Prahalad Singh Chahar - Jss Institute of Naturopathy and Yogic Sciences
Prakriti Bhaskar - Co-director of Shiladhish Art & Research Institute
Ra Mahiema (India/China) - Film maker / Researcher / Writer - Zonsta Creation
Radhika Harish - director of Natyapriya school- BharataNatyam
Rahul Acharya - Odissi - Bhubaneswar - Orissa
Rajan Sadhir - BharataNatyam - Chennai – Tamil Nadu
Ramacharyulu Gollapalli, Chary - National Geophysical Research Institute - Hyderabad
Ramalingam Yogiraj N. - Swami Sivananda Yogasana Research Centre
Ramaniranjan Jena - Performer/Teacher of Chhau dance of Mayurbhanj Style - Orissa
Ramaswarup Chaitanya - Yoga Sivachidananda Center
Ramaswarupananda Swami - Garbha Yoga
Ramesh Chandra Jena Sri & Smt.Madhusmita Mohanty, Couple of Odissi Dance - Performers & Teachers at the Orissa Dance Academy
Ranade Prof.Dr.Subhash - Chairman, International Academy of Ayurveda, Pune
Ranjith. C.R - Ottanthullal, Sethanganthullal, Parayanthullal
Revathi Salunkhe - Eeshha Movements, (The Indian Search for Harmony through Art) - Indian Contemporary Dance/ Drama
Riya K. John - Kalatharamgini Centre for Performing Arts and Culture - Ottantullal e Bharata natyam
Ruby K.John - Kalatharamgini Centre for Performing Arts and Culture - Kuchipudi
S.Sharathkumar Nedungadi - Cochin Cultural Centre - Academy Of Arts & Performing
S.Sivakumar Subramaniam - Shivakalalayam - School of Fine Arts
Sadananda Dr.P. Sardeshmuch - Ayurveda
Sadhir Rajan - BharataNatyam
Sai Krishna - flute player - Chennai - Tamil Nadu
Sai Kumar D.L. - arts theatre - Hyderabad
Sai Venkatesh - Director of Dance School, Bharathanatyam and Kathak
Sameer Bhat - Excel Arts Inc. - New Delhi
Sanchari Sarkar - Kathak dancer - Siliguri - West Bengal - India
Sanjeev Bhattacharya -Manipuri & Contemporary dance language - Kolkata – North Bengal
Sanjukta Banerjee - Director of Saugandhikam – Bharatanatyam & Mohiniyattam
Santnu Chakraborty - Sidhi Vinayaka Kalakendra - BharataNatyam
Santosh Kumar Thadavath - Gopalakrishnan Nair - Kshetra – BharataNatyam
Sarasvati Mohan dr. - Director of Sanskrit Academy
Sarmishtha Sarkar Ahmedabad - Director of Aavirbhaav School of Creative Arts
Shanta Misra – Kuchipudi Artist and Founder of Antara Foundation - Mumbai
Sharon Lowen - Odissi, Manipuri, Chhau dance - New Delhi
Shri Prateek Chaudhuri -Sitar Maestro & Reader in Music, University of Delhi - New Delhi
Shyam Mohan Acharya – Director of the Global Pain Relief Centre, Pune
Shubha Sachin - Bharata Natyam, Odissi
Shyam Mohan Acharya – Director of the Global Pain Relief Centre, Pune
Siri Rama Dr. Mrs - Kanaka Sabha Performing Arts Centre
Smruti Vaghela - Bharata Natyam, Baroda - Gujarat
Sonal Mansingh Smt. - President of Centre for Indian Classical Dances (CICD) - Classical Dance
Sreejap Kurup Ms. - Sanskrit teacher
Srinwanti Chakrabarti - odissi danceer - Kolkata - West Bengal
Subramania Sharma - Yoga Tantra - Gurukrpa - Pondicherry - Tamil Nadu
Subramanya dr Rao Jagannath – secretary of Swaasthya Ayurveda Centre & Village - Mysore
Subrata De.Swaranjali - Sitarist - New Delhi
Suchitra Ms. - Nritya - Prerana Research and Documentation Centre
Sumer Singh – Director of Citi Entertainment Network
Sunanda Dr. Ms Ranade PhD - Ayurveda
Sunil Babbar - Director and Producer of Pomy Films
Sunil vadakkayil - Yoga instructor - Malappuram - Kerala
Sunita Satpathy – dancer Odissi and Indian fusion
Suparna Venkatesh - Director of Dance School, Bharathanatyam and Kathak
Surendra Kumar Pachauri - Indian Administrative Service - New Delhi
Swami Ramaswarupananda (India) - Honorary secretary of World M.Y.A. - Calcutta
T.S. Gopal Thirumalai - Writer and Poet - Ahmd Hussain Khan Music Circle - Chennai.
Thingom Brojen Kumar Singha - Manipuri
Thingom - Dep. of Dance&Music
Tripti Bhupen - Bharata Natyam, Folk Dances of India, Reiki & Crystals Healer
Uday Kumar Shri Shetty - Founder of Kalatheera - Odissi
Urmila Sathyanarayanan - Director of Natya Sankalpaa - BharataNatyam
V.R. Ajith Kumar - Literature, writer - Official Mission Coordinator -Thiruvananthapuram – Kerala
Vaidyaratnam P.S.Varier's - Arya Vaidya Sala - Divakaran Varier
Vani Madhav - Odissi Dancer
Vidhya Prabha - bharatanatyam dancer - Chennai - Tamil Nadu
Vijayan Ragupathy - Art SISI Institute
Virendra Quazi - Chairman of Lalleshwari International Trust
Yogesh Prakash - Senior Yoga Teacher – Raipur - State of Chhattisgarh
Iran (1)
Seyed Ahmad Taleghani - President of Iran & Asia International Zen Kenpo Kubu Ju Jitsu Organization - Teheran
Ireland / Irlanda (2)
Christophe Mouze - Clare Island Retreat Centre
Colm Walsh - Yoga Dublin Studios
Islanda/ Iceland (1)
Didi Ananda Tapatii (Philippines/ Iceland) - Ananda Marga
Italy / Italia (116)
Adriana Calò - Corpo e Mente
Adriana Dr.Velardi - Fondatrice e Presidente di Klaren, Associazione Culturale e Filantropica - Bologna
Angela Gambino - Centro Syurvedico Surya - Sassari
Alessandra Lombardo - Xandrà - Compagnia di danza
Alessandro Crocco - L'Albero e la Mano
Alessandro Mattei - Garbha Yoga - Roma
Alice Mussio (Italia) - insegnante Yoga e Operatore Ayurvedico - Colico
Amadio Bianchi, Suryananda - Confederazione Ufficiale Italiana di Yoga
Amrita & Graziano - Centro Yoga Sathya
Angela Paola De Murtas, Ma Alok Pramuda - Associazione Media Domus
Angelo Pedruzzi -Yoga Teacher
Anna Di Tecco - Associazione ASD Sole Luna, Centro Yoga, Roma
Anna Greselin - Associazione Bahuta Karam
Antimo Zazzaroni - Director Istituto Di Medicina Naturale - Urbino
Archena Sharma - Indian singer - Milano
Barbara Saino - Yoga Teacher
Bruna Zatti - Arte e Natura _Novate Mil/se
Carla Ricci - Ashtanga Vinyasa Yoga -Perugia
Carlo Cappa - Centro Yoga Saraswati
Carol Saito - Associazione di Luce / Centro Arelena
Caterina Arru - Associazione la rete D'Indra
Concetta Grazia Musumeci - Garbha Yoga
Cristana Biogli - Associazione Culturale Druma Yoga
Crocco Alessandro - Associazione Culturale L'albero e la mano
Daniela Tamiso - Insegnante Yoga, Operatore Ayurvedico, Terapista - Baldissero T.se (To)
Daniela Visione Avv.- Accademia intern. di Yoga Tradiz. "Brahmajnana"
Diego Beretta - Centro Studi di Istruzione e Ricerca
Diego Ceraulo - Associazione Culturale Garuda
Dona Udeni - Sri Laka Fashion Stylist - Milano
Elena Cobez - Ayurveda
Eleonora Caturegli – Ass.Cult. L'Occhio Parlante- Milòn Mèla company of Kalaripayattu, Baul, Gotipua, Chhau - Roma
Elisa Martinelli - Federazione Italiana Carrom
Emy Blesio - Suryanagara, Centro Internazionale di Arti, Cultura e Discipline Orientali - Milano
Fabio Rosana - Praticante Buddhista
Fabrizio Maxia - Associazione Culturale Umanitaria Libertà e Amore
Filippo De Franceschi - Adularia
Fausta La Rovere - L'Essenza del Benessere - Terapista, Operatore Ayurvedico - Chieti
Francesca Ciolli - Garbha Yoga Associazione Culturale Scienze e Arti
Franco Dr. Missoli - Centro Nazionale Ricerche
Gabriella Dr.La Rovere M.D. - Medicina Allopatica e Naturale
Gabriella Ranzani - yogateacher
Ganga (Maria Pia Reina) - Centro Yoga Ibleo Ragusa
Gayatri Devi - Hindu Art Painter
Gerolamo Salonna - Associazione Sportiva Club Dharma
Gianfranco Dr.Agnelli M.D. - Medicina Ayurvedica, Massaggi Ayurvedici
Giorgio Furlan – Director of Accademia Yoga
Giuseppe Pimazzoni - Hidrya
Guido Nathan Zazzu - Centro Ayurveda
Guido Schiraldi - Hindustani classical music (sitar) -Cava dei Tirreni - Salerno
Guglielmo Colombi - Scuola di Yoga Dakini's Land
Giuseppina Ledda - Surya Cagliari
Giusy Franti _ Benessere dal Mondo
Ileana – Citaristi - direttore, Insegnante - Art Vision school- Danza Odissi e Mayurbhanji Chhau
Ivano Obelleri - Scuola Internazionale di Yoga e Ayurveda C.Y.Surya
Krishna Das - Musica Trascendentale
Jacob Dr. Pinackatt InterVeda – medico chirurgo - Lions Club International - Peschiera Del Garda
Jane Pahr - Yogamovesitaly
Jole Bertoli - Ass. Surya
Letizia Dr.Michelozzi - Lila Yoga
Lidia Serafini - Shalima
Luciana Pasinetti - Veda Center
Luciano Dr.Rizzo M.D. - Biospazio
Luigi Renato – Tai chi
Luisa Grecu - Centro Studi Ayurvedici Sivasakti - Podere Campopiano
Luz Amparo Boera – Bajan
M.Paola Angeletti - Direttore Editoriale Obiettivo Benessere
Mara Grandinetti - Satkarma e kriya Yoga
Marco Dr. Paret - Associazione Programma Neurolinguistico
Marco Milone – Double Pro Music
Maria Vittoria Fadda - Arcu e Deus
Marino Meloni - Centro Yoga Bardo
Mario Favalli - Studio Jolly -Terapista Ayurvedico, Operatore Shyatsu - Como
Massimo Floris - Dottore in Farmacia - Cagliari
Massimo Piazza (Maxsquare) - Ricercatore, Editore, Operatore Olistico in Tecniche Energetiche
Mauro Giulianini - Liberarmonia
Maxia Fabrizio - Libertà e Amore
Milva Marino - Dr.in Scienze delle preparazioni Alimentari - Pilates teacher - Milano
Nieves Lopez – Yoga Centro - Bks Iyengar Yoga/ Astanga Vinyasa Yoga
Nuccia Cerini - yogateacher Suryanagara
Orianna Dall'Aglio - Ayurveda, Shiatsu, Yoga
Orietta Sloth - architect, expressive arts therapist - Castagneto Carducci -Livorno
Panascì Salvatore - Yoga, Meditazione, Terapie Thai e Riflessologia
Paola De Cave - Associazione ASD Sole Luna, Centro Yoga, Roma
Paola Nevelli - Dipartimento Yoga, Garbha Yoga
Paolo Proietti - Associazione Culturale D.M.A.
Paolo Simi - Massaggio e Terapie Ayurvediche
Pradeep - kandyan dance - Shastra group
Pragya Chaksu Saraswati Swami , Lorena Valentina Payalunga Associazione Yoga Darsana Path
Pushpa Verma - Indian fashion stylist - Montecatini
Quenda Tertong Mara - Associazione Culturale Tertong
Rashmi V. Bhatt - Percussionistica - World Rhythm Festival
Ravinder Singh - Bhangra dance - Bergamo
Roberta Zardetto - Medicina Alternativa e Metamedicina - Org. Eventi
Roberto Alabasi - Hatha Yoga e Malattie Cardiache
Roberto Ciocchetti - World Rhythm Festival
Roberto Mattei - Garbha Yoga - Roma
Romeo Pellegrini - Insegnante Yoga, Operatore Ayurvedico, Terapista - Baldissero Torinese
Rosella Fanelli - Kathak -
Sabina Chiarion – Centro Olistico Integrato Olos
Sadruddin Ahmed – Video Assistant
Sara Romani - Centro Yoga Surya
Sat Chid Ananda Maharaj Swami- Centro Yoga Ibleo
Sergio Busi - Associazione Culturale Druma Yoga
Sharma - Bhangra dance - Bergamo
Simonetta Martino - Associazione ASD Sole Luna, Centro Yoga -Roma
Siva Sankaran Deepak Babu – Indian Music - Bologna
Sreejap Kurup Ms. Sanskrit teacher - Milano
Stefania Cordischi - Garbha Yoga - oganizer of events - Roma
Stefania Rossitto - Centro Yoga Sivachidananda
Stefano Momentè (Surya) - Associazione Vegan Italia
Surya - Bharata Natyam Dancer, Lilayoga Teacher, Director of the Dance Department of Suryanagara and Surya Association
Susanna Vicenzetto - insegnante di Bharata Natyam e Shiatsu-Nritta school – Bergamo
Tiziana Dalla Francesca (Shila) - Centro Ibleo Yoga
Valentino Jogan - Centro Heliantus
Vidwan D. Keshava (Switzerland/India) - Kalasri, School for indian Dance and Yoga
Virginia Mastrelli - DIKSHAItalia / Centro Studi Elisir Cultura e Benessere
Zita Gennari - yogateacher in Suryanagara
Jugo
slavia
(1)
Shreevidyananda Swami(Dragan Loncar), (Serbia, Montenegro, Yugoslavia) - Vidya Yoga Center
Kingdom of Bahrain / Regno del Bahrain (1)
Kavitha Sanjay - Bharata Natyam
Kuwait (1)
Suresh Periyarath Menon - administrator Al-Jahra
Malaysia / Malesia (3)
Jiva Ravindran Ms - Director of Nritya Vatika Dance Academy
Pamela - Director of Academy: Laya Dance Theater
Periama Sivaperumal Yogacharini - President of Shaptarishi Yoga - KualaLumpur
Malta (1)
Francis Pullicino – Cefit Limited – Festival&events
Maroc / Marocco (1)
Mimoun Boulahfa Abdel-Lah (Maroc /Spain) - Yoga and Martial Art
Mauritius
/ Isole Mauritius
(1)
Trilo Gujadhur - Director of Ackbar Yoga Movement - Quatre-Bornes
Mexico
/
Messico
(1)
Coral Zayas

- Dancer, Writer,

Teacher Yoga and dance - México

DF
Mont
ecarlo
(1)
Anette Shine Galantino - Sunshine Yoga
Netherlands / Holland / Olanda (2)
Alexandra Van Oosterum (Netherlands/Italy) – Soloyoga
Surajit Das - Indian Music
New Zeland/ Nuova Zelanda (1)
Dada Subuddhyananda (New Zeland/Sweden/Scandinavia) - Ananda Marga- Oslo
Norway /Norvegia (1)
Dada Subuddhyananda (New Zeland/Sweden/Scandinavia) - Ananda Marga- Oslo
Pakistan (1)
Ali Khan Shahbaz - President of Pakistan Yoga Federation
Philippines / Filippine (1)
Alberto A. Dacayana Jr.- Migsunedo Esprima - Filipino Stick Fighting
Portugal / Portogallo (4)
Amandio Albertino Figueiredo - Federacao Portuguesa de Yoga
Joao Paulo I. Dias - Yoga Ashram
Mario Martins David - Associacao Professional De Yoga
Norberto Dr.Lopes Ribeiro - AYDL Associaçao de Yoga do Distrito de Leira
Republic of Congo / Repubblica del Congo (1)
Ouamba - Fred Gordon - Director of Tantra Yoga
Romania (4)
Ananda Devapriya - Ananda Marga - Bucharest
Eugen Martz - Societatea de Yoga si Parapsihologie
Somaaditirtha Saraswati Swami (Romania/Ecuador) - Bhakta Shakta Yogi
Virgil Catalin Calin (Rumania/Italia) - Associazione Culturale Umanitaria Libertà e Amore
Russia (3)
Elena Tarasova - Apsara - Director and teacher Kuchipudi - Dance Theatre "Apsara" - Saint-Petersburg
Eleonora Uhanova – Teacher Odissi, Bharatanatyam - "Nataraja" Dance group - Rostov-on-Don
Ilya Zhuravlev - Ashtanga Yoga Center
Singapore (5)
Govindaradjalou Kumaran - River Valley Cour
Kalpalathika Thiyagarajan (India/ Singapore) - Kalpavrikshaa, School of Fine Arts - Kuchipudi
Raka Maitra - Srishti Dance Works
Shanta Misra - Kuchipudi Artist and Founder of Antara Foundation - Mumbai
Srabonti Dutta Ms.– Professional Odissi
Slovenia (4)
Diana Cimpric - Yoga and Meditation
Jana Colona - SuryaSakti Center For Yoga & Health
Sabrina Mesko Ph.D.h - Association of Yoga Therapists of Slovenia
Vishwashakti Saraswati Swami - Tara Yoga Center, Satyananda Yoga Slovenia
South Africa / Sud Africa (1)
Mrslove - Odissi theacher and performer - Cape Town
Spain / Spagna (15)
Avadhutika Ananda Harimayá Äcaryá - Ananda Marga - Valencia
Boulahfa Dr.Omar PhD. - Ayurveda
Cesar Lorente Raton - Tracor Cinema - Jose Antonio Puente Caballero
Dada Krsnapremananda - Ananda Marga
Gema Vidal Pinart - Escuela Nacional de Formación de Profesores de Yoga Darshana
Habib Ba (Spagna/Tunisia) - Asociacion Yoga de Las Actitudes/ Escola Yogavida
Javier Dr.Bravo PhD - Ayurveda
José Antonio Puente Caballero - Tracor Cinema
Komala Lyra - Ayurveda Teacher of Akala Ayurveda Retreat - Ibiza - Spain
Manuela Gonzalez – Asoc. Nac. Sakura Take Kan - Salamanca
Mayte Criado - Escuela de yoga - Madrid
Mimoun Boulahfa Abdel-Lah (Spain/Maroc) - Asociacion de Profesores de Yoga Comunitarios / Asociacion Nacional Sakura Take Kan
Swami Omkarananda - President - Federacion Española De Yoga Clasico - Asociacion Yoga Vedanta e de Estudios Vedicos - Valencia
Tapan Kumar – Bhattacharya - tabla teacher - Tapangroup - Barcelona
Wilfrid Hartnagel - Complementary Alternative Medicine International Directory
Srilanka (3)
Dona Udeni - Ajantha fashion
Murugesapillai Indrarajan - Jaffna College
Pradeep - kandyan dance - Shastra group
Sweden / Svezia (3)
Dada Subuddhyananda (New Zeland/Sweden/Scandinavia) - Ananda Marga- Oslo
Johanna 'Laliita' Lundström - World Counscious Yoga Family (Yogi Vishva Panwar)
JP Bordahl - Festival chef - Hultsfred
Switzerland / Svizzera (8)
Carlos Correia - Yoga Schule City
Eberhard Bauman - Art of Living
Katrin Grüntzig - Yoga 24 - Zürich
Keshava Vidwan Dasappa - Schule fur Indischen Tanz und Yoga - Basilea
Marcel Verbay - The Art of Living Foundation
Pius Meier - Yoga Schule City
Rajeshwari-Zorahaima Waibel - IAVEL Institut asiatischer-vedischer Lehren Integral Yoga /Ayurveda-Praxis
Valérie Lutz - Air Yoga bei Yoga Works
Thailandia / Thailand (2)
Anita Shanmuganathan Aratnam Dr (India/Tailand) - Samudra Dance Productions Bangkok
Vivekananda Swami- Agama Tantra Yoga
Tunisia (1)
Sakhria Mourad - Founder of Bushite Ryu -Yoga and Martial Arts Discipline-GuerrièreS
Turkey / Turchia (1)
Ersin "Ananda" SARAN - founder, yoga teacher - Kaivalya Yogashram – Istanbul
U.A.E United Arab Emirates / U.A.E Emirati Arabi Uniti
(1)
Tripti Bhupen - Director of Samarpan - Bharatanatyam and Folk Dances
U.S.A. (26)
Ambika Raman - BharathaNatyam teacher – Dayton - New Jersey
Anuradha Renganathan – BharataNatyam - Edison - NewJersey
Beth Rigby - Director Trainer of Yoga Meets Dance (tm)
Bhagyasri Manohar - Teacher/performer kuchipudi, folk dances - Cleveland
Dheepa Ramanujam - Krea - Theatre and Visual Arts - Fremont - CA
Francis Barboza Dr. Guru - BharataNatyam
Helene Eriksen - Teacher, Choreographer and Dance Ethnologist - Kathak, Folk Dances of N. India, Pakistan and Afghanistan
Hemavathi Sharma - Nritya, School of Indian Dance and Music
Jagannath Lairenjam Manipuri – musician and teacher Manipuri - New York
Kimberly Larson – Yoga
Laxmi Ganesh Tewari Dr. - Sonoma State University
Maheetha Bharadwaj - BharataNatyam - Chicago
Malathi Iyengar - Foundation for Art & Culture Rangoli Dance Company
Pandit Satya Narayana Charka - Artistic Director - East-West School of Dance - Kathak & Dance Drama productions
Parvathi Lisa Santhanam - Odissi - Ganesh Academy - Milledgeville, GA
Paulomi Pandit Hoffman - Bharata Natyam and Folk - Rangashree Indian Dance
Rachel Astarte - writer - New York
Rajandran Sundaram - NrityaShree - BharataNatyam Odissi
Ramapriya Bethany Knight - Sivananda Yoga, Ayurveda - Teacher of Shantivanam Retreat Center - Glover – Vermont
Rathna Kumar - Director of Anjali Center for Performing Arts - Houston - Texas
Sandra Uyterhoeven - Yoga For Mainstream People
Satya Narayana Charka Pandit - Artistic Director of East-West School of Dance - Kathak & Dance Drama Productions
Shreelata Suresh - Artistic director - Vishwa Shanthi Dance Academy - Bharatha Natyam
Stephen Mehlert - Executive Director World Yoga Foundation, Yoga Expo
Subhas Prof.R.Tiwari - The Hindu University of America
Susan Elain Long (U.S.A./Italia) - Garbha Yoga
---